INTERSTATE ASSESSMENT TECHNOLOGIES
2435 E. Pecan Rd.
Phoenix, AZ 85040

602.438.6070

602.305.6996 (fax)
[Back]
TankData 2000™
TankData 2000 is a new development that addresses the needs of Owner/Users, Inspectors, Repair Firms, OEM's and anyone else interested in the mechanical integrity of Aboveground Storage Tanks. TankData combines the features of other "single function" tank software by providing a multitude of capabilities within one, easy-to-use software system. Each tank's inspection, design and maintenance history is now conveniently available and displayed, without extensive training, exorbitant costs, or unnecessary "window dressing" that only serves to increase the price of software. A Demo is available for download.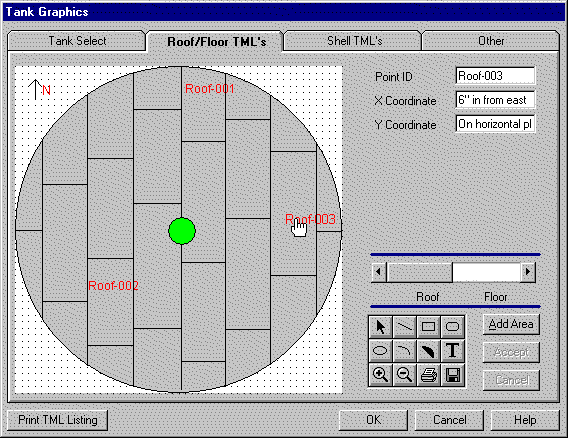 » Simple drag & draw graphics creation
» Any element type or text can have data attached
» Mouse over displays attached data
» Mouse click displays most recently recorded thickness
» Zoom to 200% for detailed drawing
» Inspections documented graphically w/detailed data attached
» TML data available in tabular list

---
Utilizing the Microsoft Windows graphical user interface, TankData provides the user with the following important features:
| | |
| --- | --- |
| | API 653 calculation formulas with on-line updates of corrosion rates, inspection intervals, "t-min's" and more; |
| | API 653 shell & bottom survey calculations and graphs; |
| | A thorough internal/external Tank Inspection Checklist in compliance with API 653; |
| | A complete information database to allow recording of all construction, maintenance, repair and inspection activities on each AST, including generous narrative area for those items that just won't fit into a nice neat box; |
| | Simple graphics routines that make recording of tank inspection information quick and easy to manipulate. This allows actual drawings to be developed of each AST shell, floor and roof, with each drawing containing notes, data, thickness measurements, edge/floor settlement, corrosion areas, etc.; |
| | Extensive use of Tool Tips on each field; |
| | Data is available for in-depth analysis via Microsoft Excel; |
| | NOW with selection of US or SI units to accommodate your reporting needs |

TankData 2000 Features / Capabilities
| | |
| --- | --- |
| | Provides a comprehensive database of design, inspection and repair information, as well as drag & draw graphics capabilities in a Windows environment. |
| | Graphical presentation of shell, roof, bottom plates or any other area with the ability to draw the additional nozzles, attachments, etc. |
| | Displays all previous thickness readings for a tank, as well as the minimum wall values while entering the current thickness for a given point. |
| | Contains 20 user definable data fields to meet your specific needs. |
| | Contains both In-Service & Out-of-Service detailed inspection checklists for use in documenting required tank inspections. |
| | Automatic material default value are provided, based upon API 650 design criteria. |
| | Allows independent entry of course heights, as well as automatic calculations for tanks with uniform course heights. |
| | Shell (out-of-plane) and bottom settlement calculations |
| | Complete documentation of inspection results and repairs, plus graphical entry of those results / repairs. |
[Floor] [ISummary] [Plate1] [Rollout] [Roof] [Shell] [ShellList] [Thickness] [TDetail] [TSummary] [CostBenefit]
The links above will open sample report pages in PDF format!

Cost Benefit/Justification
By utilizing and implementing TankData, an owner/user, inspection agency, or terminal manager can accurately and simply record Aboveground Storage Tank (AST) inspections in complete compliance to API 653 requirements. This program is also designed to meet or exceed the requirements and expectations of OSHA 1910.119, and the applicable environmental regulations at the place of installation.
Consider the following facts:
ESTIMATED COST SAVINGS - $10,000 FINE PER OCCURRENCE
State/local environmental laws are becoming more stringent every day. Failure to document inspections on such items as roof seals, cathodic protection, foundations, settlement, etc. has resulted in some tanks being ordered to be completely removed from service. Other violations have resulted in fines ranging from $1,000 to $50,000.
TankData Solves This Problem!
ESTIMATED COST SAVINGS - INCALCULABLE
API 653 AST Inspection Code (one of the documents referenced by OSHA 1910.119) requires that complete inspection data (external, thickness and internal) be maintained, along with repair/alteration history and sketches showing repaired areas.
TankData Solves This Problem!

ESTIMATED COST SAVINGS - SEE ITEMS ABOVE

The typical man-hours needed to complete a single AST inspection will usually be nearly doubled by the time the report is completed. Preparation of hand-written reports, calculations, and sketches are very time-consuming, and is commonly completed days or weeks after the actual inspection has been completed. Often times, this "lapse" in documentation efficiency results in lost data, incorrect information, and scrambling to "recreate" the inspection. With TankData, the technician can use a laptop computer to simply type in the inspection results, and can also draw any necessary sketches, without fumbling with paper, rulers, protractors, etc.
TankData Solves This Problem!
ESTIMATED COST SAVINGS - MAN-HOUR REDUCTION BY 30% TO 50% FOR EACH TANK INSPECTION